September 23, 2021
James Kon, Borneo Bulletin
Assistant Senior Technical Instructor from School of Hospitality and Tourism at the Institute of Brunei Technical Education (IBTE) Pengiran Haji Mohd Wahab bin Pengiran Haji Abdullah received the prestigious Princess Maha Chakri Award (PMCA) as recognition of his continued contributions to the development of Brunei's education in the area of cookery and culinary art.
Pengiran Haji Mohd Wahab was one of the 11 recipients of the 4th PMCA.
Ambassador of Thailand to Brunei Darussalam Wanthanee Viputwongsakul handed over the award in a ceremony at the Royal Thai Embassy in Brunei Darussalam yesterday.
Permanent Secretary (Core Education) at the Ministry of Education Dr Shamsiah Zuraini Kanchanawati binti Haji Tajuddin, Acting Director General of Education Dr Hazri bin Haji Kifle and CEO of IBTE Dr Haji Mohd Zamri bin Haji Sabli were present. "Normally, the recipients of Princess Maha Chakri Award get the opportunity to travel to Thailand to participate in the award ceremony where Her Royal Highness Princess Maha Chakri Sirindhorn would preside over and personally hand over the awards to the recipients," Wanthanee Viputwongsakul said.
However, she said "due to the COVID19 pandemic, this year's ceremony was organised in onsite and online format. The ward recipients from ASEAN member countries and Timor-Leste will participate from their own countries via video conference".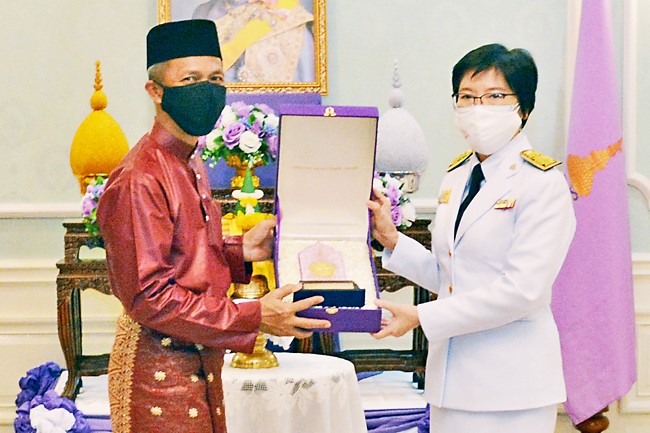 She also assured that the Royal Thai Embassy is ready to support the work of all PMCA awardees. Dr Shamsiah Zuraini Kanchanawati and Wanthanee Viputwongsakul also received the PMCA's Honorary Brooch.
The Princess Maha Chakri Award was established in 2015 on the 60th birthday anniversary of Her Royal Highness Princess Maha Chakri Sirindhorn to honour Her Royal Highness' dedication to educational development.
Brunei has four PMCA recipients – Hajah Ratnawati binti Haji Mohammad (2015), Lim Soh Ngo (2017), Hajah Noorliah binti Aspar (2019), and Pengiran Haji Mohd Wahab.
The Princess Maha Chakri Award is one of the most important forms of international cooperation in the field of education in Thailand. It provides a unique opportunity for Thailand to support and promote development of the teaching profession and educational development, especially in ASEAN member countries and Timor-Leste.
Pengiran Haji Mohd Wahab expressed gratitude to Allah the Almighty and for the support from colleagues, friends, and family. He hoped his achievement will inspire others. He also dedicated the award to his students, adding that the recognition has inspired him to do better and motivate his students.

Update From The Royal Thai Embassy, Bandar Seri Begawan, 13th October 2022:
Cikgu Pengiran Hj Mohd Wahab Pengiran Hj Abdullah will be showcasing his unique teaching techniques, inspiring stories, managerial methods and best practices to educators and teachers from ASEAN countries and beyond, in-person, at the 4th Princess Maha Chakri Award Forum for 2021 recipients from 17 – 18 October 2022 at the Centara Grand & Bangkok Convention Centre at Central World and Her Royal Highness Princess Maha Chakri Sirindhorn will preside over the opening ceremony of the forum on Monday, 17 October 2022.