James Kon, Borneo Bulletin
"The dual system apprenticeship programme provides valuable training in creating job-ready graduates for the Sultanate," Director of Technical Education and Institute of Brunei Technical Education (IBTE) CEO Dr Haji Mohd Zamri bin Haji Sabli said.
"Apprenticeship is a combination of on-the-job training and classroom instruction under the supervision of instructors and industry professionals where students learn practical and theoretical aspects of the job. This enables them to practice their skills and gain confidence, develop more in-depth knowledge, understanding and be able to achieve industry standards quicker, improving the productivity and quality of workforce," he said.
He made the statement during the signing of a memorandum of understanding (MoU) between IBTE and Seng Hoe Huat Group of Companies at the Longhouse Training Restaurant of IBTE Sultan Saiful Rijal Campus yesterday.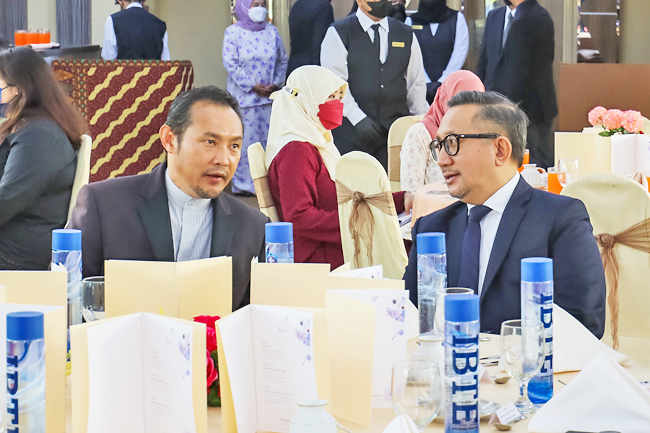 The MoU was signed realising the IBTE's dual system apprenticeship programme in the field of automotive technician taking place this year as well as for the planning of conducting two additional IBTE dual system apprenticeship programmes in professional cookery and services as well as refrigeration and air conditioning in the coming year.
For a successful apprenticeship programme, Dr Haji Mohd Zamri said, "It is important that companies see the value of participating in the apprenticeship system. IBTE would like to encourage companies to take up the scheme as the apprenticeship training system has been proven successful in Brunei and other countries."
Seng Hoe Huat Group of Companies Director Wong Hui Ting said, "IBTE's commitment into the dual system apprenticeship presents excellent opportunities for students to learn by doing. Classroom learning plays an important role, but our youth have much to gain from the real world that is often difficult to stimulate in the classroom. With that said, IBTE has taken the step to bridge the distance between the classroom and employment."
She added, "The key to the growth of our diverse business portfolio extends to our team.
Our culture relies on building a healthy support system that promotes an environment for learning, sharing and helping each other to achieve the best results. There is no greater investment than our employees and future apprentices, as they represent the main guiding principles of our companies."
She believed that the partnership will bring together a diverse crew of like-minded and talented individuals that will show team spirit, coupled with support, encouragement, mentorship and gained creativity. In line with Brunei Vision 2035, she hopes the collaboration will shape and prepare the youth for employment and greater achievements in relevant industries.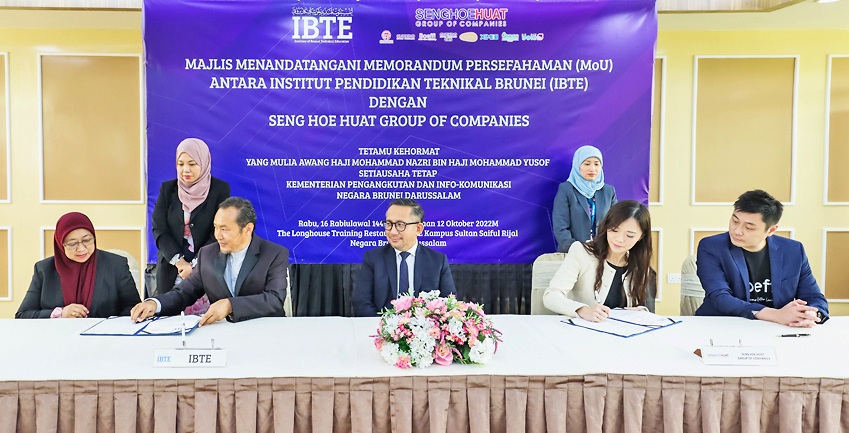 Permanent Secretary at the Ministry of Transport and Infocommunications Ir Haji Mohammad Nazri bin Haji Mohammad Yusof, guest of honour, witnessed the signing.
Signing on behalf of IBTE was Dr Haji Mohd Zamri and witnessed by IBTE Central Acting Principal Hajah Rohani binti Haji Mohammad Salleh, while Wong inked on the dotted line, witnessed by Jeremy Chung Yaw Chuan. The signing involved four companies under Seng How Huat Group of Companies – Seng Hoe Huat Auto Accessories Service Company, Auto Gadgets (AG) Company, Autopro Tyre Company and Momocorse Auto Company.