A memorandum of understanding (MoU) signing ceremony between Institute of Brunei Technical Education (IBTE) with the Yunus Emre Institute, Türkiye was held on the 16th January 2023 at The Lecture Theatre of the School of Aviation, IBTE Sultan Saiful Rijal Campus, Jalan Utama Berakas.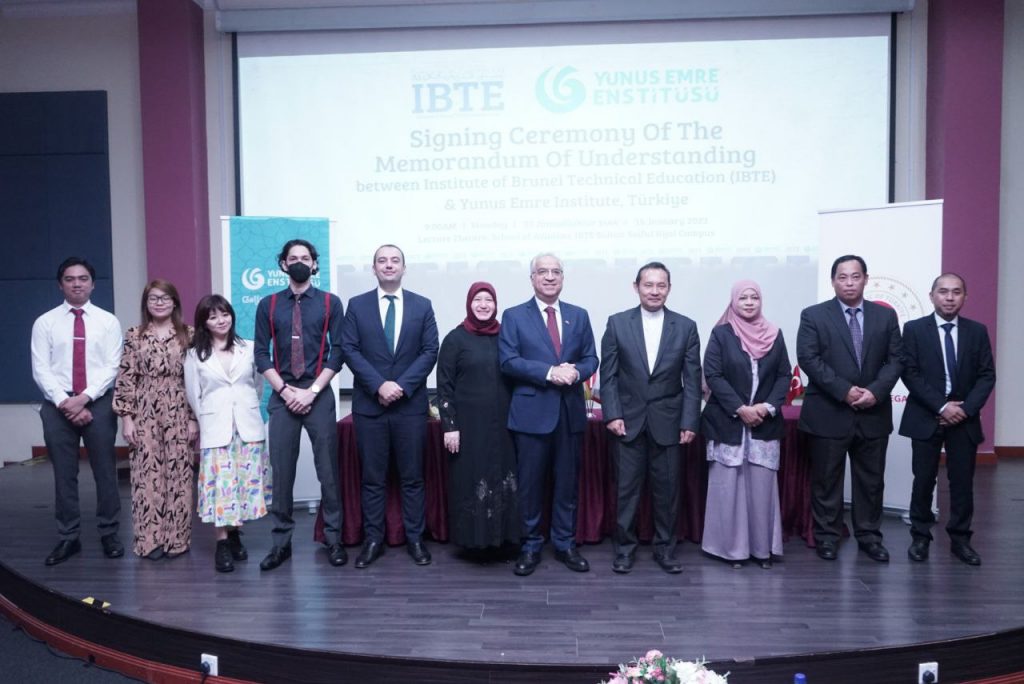 This collaboration was the start of building and strengthening the ties between IBTE and the Yunus Emre Institute, Türkiye, through promoting and developing academic exchange and cooperation in teaching, training, research and supervision, for students and academics which both institutions can benefit from.
With this MoU, it opened up the gateway and opportunity to have meaningful exchange and insights of the people and The Republic of Türkiye, and they in turn will get to know the country and the people of Brunei Darussalam. This collaboration will give exposure to IBTE students and academics, to broaden their horizon and to be curious in having a better understanding of the world of the many countries and cultures there are out there.
IBTE is devoted in establishing effective strategic collaboration with industries, communities and international parties towards the development of a dynamic technical education institution that will strategically advance IBTE nationally and regionally. By signing this MOU with Yunus Emre Institute, Türkiye, it established a legal framework for long term cooperation between IBTE and the Yunus Emre Institute, Türkiye, and also aligning with IBTE Strategic Goal 3 – Effective Strategic Collaboration with Stakeholders.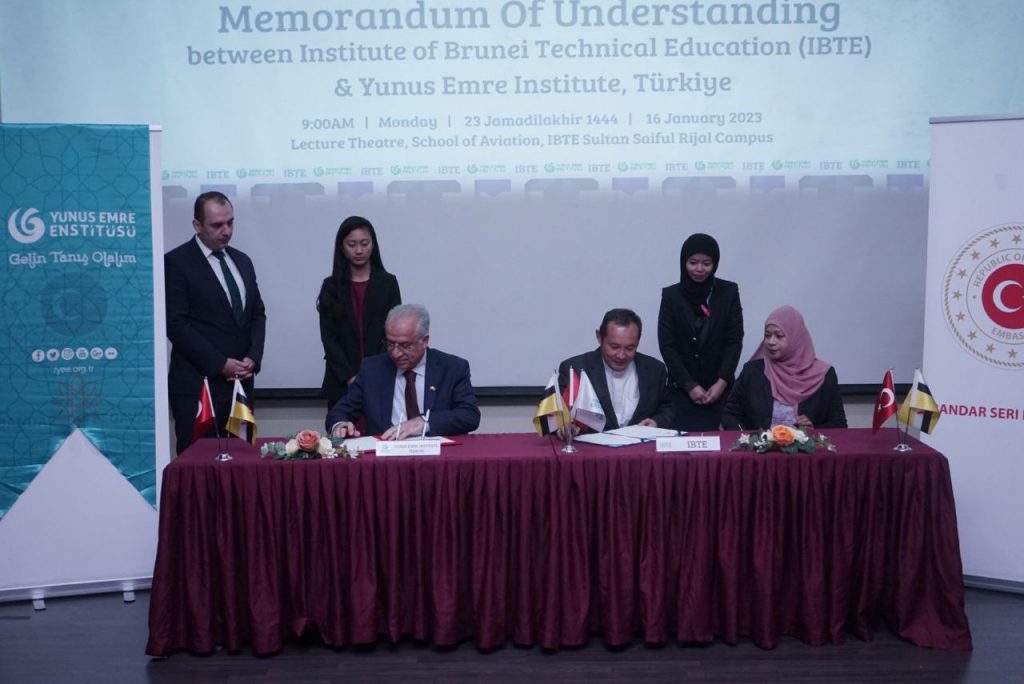 Signing on behalf of IBTE was Yang Mulia Dr Hj Mohd Zamri bin Hj Sabli, IBTE CEO, witnessed by Yang Mulia Pengiran Hjh Hamidah binti Pengiran Hj Hidup, Acting Deputy CEO. Whereas on behalf of Yunus Emre Institute, Türkiye was His Excellency Professor Dr. Hamit Ersoy, Ambassador Extraordinary and Plenipotentiary of The Republic of Türkiye to Brunei Darussalam.
"This marked the third MoU signed between Yunus Emre Institute and a Bruneian education institution, for which I am personally proud and pleased to see. We are working to increase educational ties between our countries with the aim of nurturing more innovative social interaction between the people of Turkiye and Brunei," said Ambassador Professor Dr. Hamit Ersoy.
The MoU signing signals the commitment that Türkiye has toward its 'Asia Anew' foreign policy initiatives, for which 'strengthening academic cooperation' and 'development of interaction between societies' are two of the main four pillars of the policy.
To start on paving the way of this collaboration, the Yunus Emre Institute, Turkiye, offered a Turkish Language course to IBTE staff and academics. The language course commenced at the end of January this year, and expected to run once a year.
Background of The Yunus Emre Institute
Yunus Emre Institute is a Turkish language and cultural institution was established to promote Türkiye, its cultural heritage, Turkish language, culture and art. It also aims to improve the friendship between Türkiye and other countries and increase its cultural exchange with other countries. Yunus Emre Institute carries out studies for Turkish teaching in centers established abroad to accomplish this aim, as well as conducting culture and art activities to promote Republic of Türkiye, and giving support to scientific researches.
Since 2009, Yunus Emre Institute currently has more than 63 cultural centers abroad. Apart from the Turkish education at the cultural centers, Turkology departments and Turkish teaching are supported with the cooperations made with different educational institutions in different countries.
The Yunus Emre Institute is also eyeing further cooperation on cultural and language courses with other interested education institutions in the Sultanate including public and private schools.